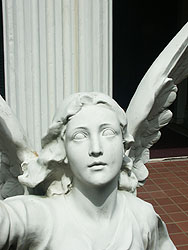 St. Elizabeth was built in the 1860's as a boarding school for young ladies staffed by the Daughters of Charity. Following yellow fever epidemics, the nuns soon found themselves running an orphanage and, in time, St. Elizabeth became a haven for children in need of care. In 1989, the Daughters of Charity closed the facility and moved their program to Marrero, Louisiana, where they operate Madonna Manor.

Anne and Stan Rice acquired the property in 1993 and began an extensive program of renovation. Everything in the building was polished, buffed and reborn. Soon, St. Elizabeth became a stunning guesthouse for the Rice's many relatives and friends. Film stars, clergymen, artists and even former President Bill Clinton spent time in the gracious suites.

The Rice's lavishly furnished this home with antiques, books and statuary.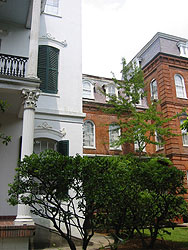 Mrs Rice's world-renowned doll collection was displayed in two bedrooms on the second floor, and Mr. Rice's art collection was housed in a wing of this large property.

St. Elizabeth was also the setting for many elegant weddings, parties and soirees. On Halloween, the Anne Rice Fan Club held a masked ball in her honor at the mansion, and the National Mayors Conference was held here.

Today, St. Elizabeth is about to be reborn again. Listed on the National Register of Historic Places, it will now become home to those who will enjoy life at its best within its distinctive walls.